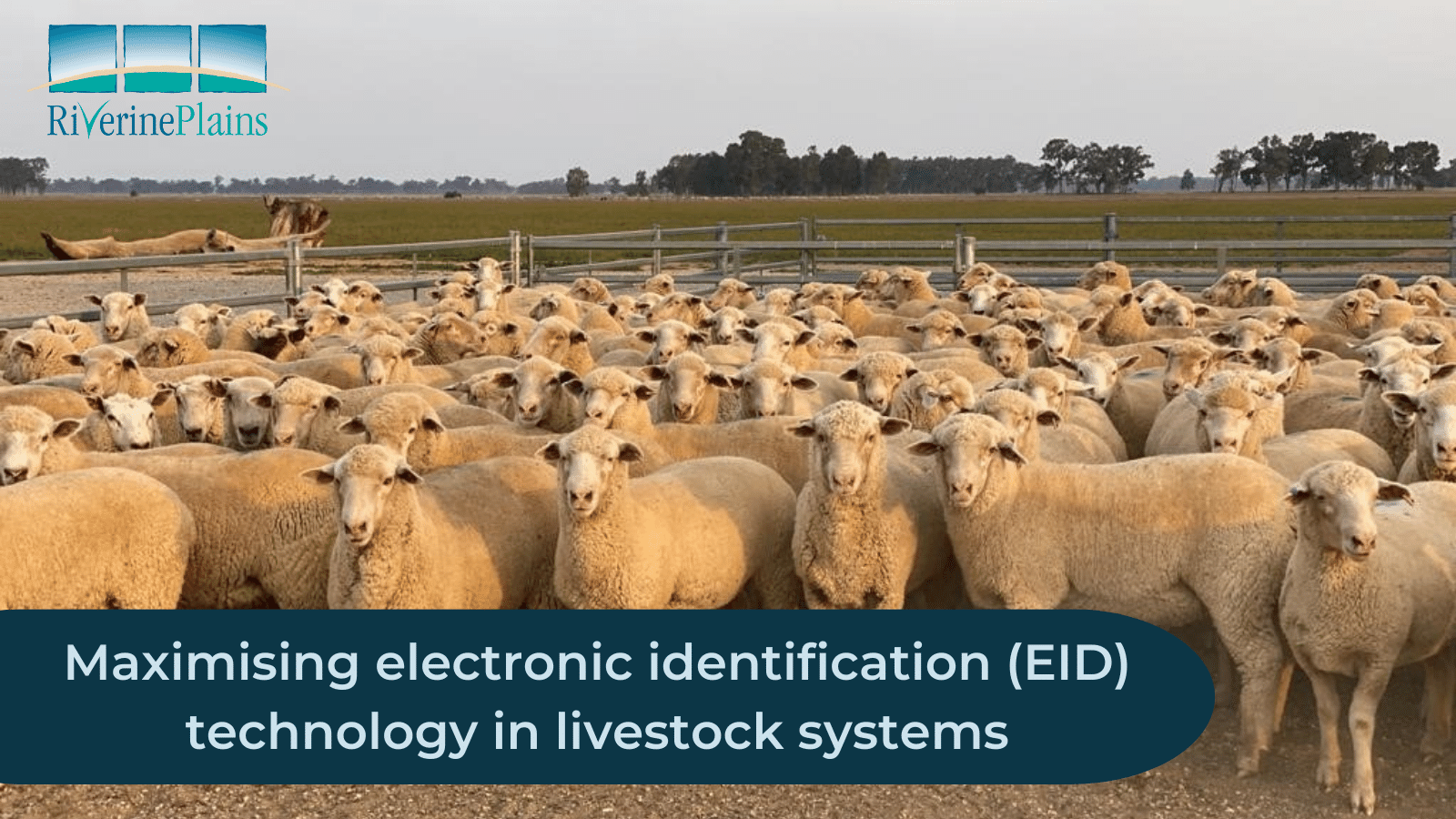 Key messages
electronic identification (EID) technology underpins NLIS traceability, biosecurity and market access
mandatory EID tagging of sheep and farmed goats begins on 1 January 2025
using EID technology for performance monitoring and record keeping can enhance livestock management and decision making
EID technology has many applications beyond its role in traceability and represents a real opportunity for farmers looking to improve their livestock management.
Although many farmers are already familiar with EID technology, there are many who may be feeling overwhelmed by the cost and upskilling required. So, what are the additional benefits of using EID technology and where can you get help if you need extra support?
A refresher on EID and the NLIS
EID involves the application of radio frequency identification (RFID) tags, each with a unique identification number, to an individual animal.
In Australia, EID or RFID tags are used within the NLIS system to enable lifetime traceability of cattle, sheep and goats. This allows for accurate and timely monitoring of livestock movements and affords Australia strong biosecurity and food safety systems, as well as a competitive advantage in global markets.
In Australia, all cattle must have an NLIS EID tag prior to departing the property of birth, with all movements recorded in the NLIS database as per the NLIS (Cattle) Traceability Standards.
Individual EID tagging will become mandatory for all sheep and farmed goats born in Australia on 1 January 2025. From this date, EID scanning will also become mandatory at all saleyard depots and for property-to-property movements (scanned on arrival at the new location). From 1 January 2027, all sheep and farmed goats leaving a property must be tagged.
Benefits of EID technology
One of the great advantages of EID technology, in addition to traceability, is that it can also improve livestock management when used to capture individual performance data.
Collecting key individual stock information such as liveweight, fleece weight, pregnancy and lactation status provides data about an animal's individual production performance over time. This has huge practical potential for management and allows stock to be drafted by multiple performance values. Drafting stock based on performance data allows selling or culling decisions to be made with greater confidence, can improve herd performance over time and enables stock to be sold in more uniform mobs. This can be especially useful when making culling decisions during times of drought, when the pressure of selling increases.
The administration of animal health products such as vaccines and drenches, including dosage rates and timing, can also be recorded using EID technology. Using individual EID data in this way can improve the efficiency and accuracy of recording management data and can broaden market access by meeting various accreditation requirements.
What equipment do I need?
There's a huge amount of EID-related technology available and it can be tricky working out what you need. Ultimately, the data you collect comes down to your individual business and how you prefer to operate.
EID tags, once applied to animals' ears, can be read by hand-held wands or panel readers which can be connected to weigh scale indicators or other devices to record individual information. There are a wide range of readers, indicators and other technologies available, each with varying capabilities.
To work out what you need, firstly define your production objectives, such as maximising weight gain, fleece production, pregnancy rates, or pasture persistence. Following that, identify the critical factors that can help achieve your goals; this will ultimately help determine which data is most important for your business.
Decision matrices can be valuable tools for refining the critical factors behind management decisions. To learn more about developing decision matrices visit Decision Matrix - YouTube, and to create one using an online tool visit DecisionWizard (sfs.org.au).
I've got the equipment, what now?
Data needs to be collected in a way that makes it useful.
Using structured templates will help to interrogate data so that it can be used to inform management decisions. Readers and indicators have options for using pre-set or custom templates for collecting individual performance traits, which can make data management much easier.
For those that feeling unsure when it comes to data management, it's helpful to know that technology providers have online training resources which explain how to set readers and indicators to collect information in specified templates i.e. Datamars Training (skilljar.com), Support Video (gallagher.com). Nextgen Agri Templates will also shortly be available from the Riverine Plains website.
Join our upcoming Riverine Plains webinar to learn more about configuring indicators and readers to collect data in specified templates, as well as managing and interrogating collected data in excel. The webinar will be led by Nextgen Agri, and will be held at 7:30pm on Wednesday 21 June.
Need more assistance?
There are many advisers who can help farmers configure equipment, upload templates and download data from indicators and readers, as well as manage and interrogate data in Excel. This can be a great solution for producers looking to inform their management decisions with better data, without having to do the set-up or analysis themselves.
Remember, there's no point collecting data that doesn't provide the management insights you need, so if you need more information, speak to a trusted advisor or other experts about the best options for you.
Additional resources and further reading
Livestock RFID for sheep management (VFF)
Sheep and Goat Individual Electronic Identification (NSW DPI)
Livestock identification and ordering NLIS tags (Agriculture Victoria)
Choosing an EID tag-reader and software (Agriculture Victoria)